Some transceivers have a microphone input adapted to the electret microphone and some to a dynamic one. It is not possible to replace them due to design differences. The electret microphone contains a FET transistor in the capsule, which must be supplied with DC voltage in the same wire as the audio signal.
The FT-991 transcieiver (like many other Yaesu) has a dynamic microphone input. In order to be able to use a typical PC headset unit, you need an adapter with the diagram shown below. After adding the input for the PTT footswitch, the implementation looks like in photograph 1. Be sure to adjust the gain of the microphone path in the FT-991. For the dynamic microphone MH-31, use the value 33, and for the excellent Koss SB/45 headset, the gain must be set to 10.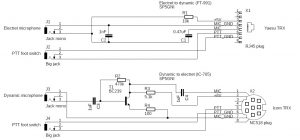 In turn, the IC-765 transceiver (like many other Icom) has an electret microphone input. To connect the top Heil Sound Pro 7 set with the dynamic microphone to the FT-991, a simple mechanical adapter is enough. However, in the case of IC-765 it is not enough. The signal from the microphone is too weak and needs to be amplified. The appropriate diagram is in the figure above. Physical implementation with the use of SMD components is cumbersome, but it allows you to fit the amplifier inside a heat-shrinkable sleeve, as shown in the photograph 2.