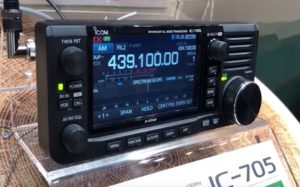 Icom has presented at HamFair, taking place at the Ariake international exhibition center on the artificial island Odaiba in Tokyo from August 31 – September 1, 2019, a new compact portable QRP IC-705 transceiver, working with the use of SDR technology.
Main Features:
TX Bands: HF, 50 MHz, 144 MHz, 430 MHz plus 70 MHz for European Version,
RX: Continuous from HF to 2 meters, including Airband and FM Broadcast,
Modes: SSB, CW, RTTY, AM, FM, D-Star DV,
RF Direct Sampling System up to 25 MHz,
Down conversion IF sampling method for 25MHz and above,
Real-time spectrum scope and waterfall display,
4.3 inch Touch Screen Display,
Compact Size 20cm (7.9 Inch) x 8cm (3.1 Inch) x 8,5cm (3.3 Inch), Wight 1 Kg,
Li-ion BP-272 Battery Pack,
Output Power: 5 W (Battery) – 10 W (13.8 V DC),
Bluetooth and Wireless LAN for mobile device Remote Control,
GPS: Antenna and Logger, to be used in D-Star DV Mode,
MicroSD Card Slot for firmware upgrades, voice recording, GPS Log,
D-Star: full functions, save and display pictures,
Antenna: VHF UHF Whip antenna included,
SP Mic: with programmable buttons, included,
Backpack: multi-function, optional.
Currently presented ICOM IC-705 is just a prototype. IC-705 availability date and price is not yet known.
We can't wait to take IC-705 with Mirek SP5GNI for the next trip to the mountains for SOTA!
Info from: DX Zone