I have been interested in QRP solutions for a long time. Of course, I do not avoid QRO, which like QRP gives me pleasure. Long time ago I built TRX Libra on the 80-meter range, unfortunately I did not have the desire to fully run it. Now I have found a very interesting and modern QRP CW radio project, which has very good (as for KIT) parameters and many "splashbacks" present in modern TRXs of well-known brands.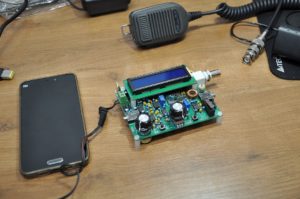 Returning to the transceiver itself – there are available kits for the 80, 60, 40, 30, 20 and 17m bands. The main features of the QCX TRX:
– Output power: 3.8W for 11.9V and 4.2W for 12.4V. Apparently at a higher voltage can be achieved and 5W (transistors do not require cooling, they are just cool)
– PA is implemented in the "E" class, which brings with it a small power consumption when transmitting, and thus good system efficiency. In my case for 4.2W the current consumption is 450mA (the receiving is 110-120mA)
– 7-element Low-Pass filter
– S-meter
– VFO A/B, Split
– Built-in straight key
– Built-in keyer, which is easy to use, has a memory for a lot of characters
– Presentation of transmitted characters during transmission and decoding Morse code. Very useful, not only for beginners
– Built-in CW filter with 200Hz bandwidth
– Customizable CW offset, as well as configurable frequency and volume of sidetone
– Built-in voltmeter, RF power, frequency meter, signal generator
– Has RIT, XIT functions. The menu is quite extensive as for Atmega 328
– The ability to change the firmware
– Tuning takes place from the menu through a graphical representation of the settings
– Operates with 9V battery, giving approx. 1 W (working from 7 to 16V)
– Full QSK and Semi QSK (with me something from Semi QSK works strangely)
– TRX is prepared for WSPR operation, you can buy a GPS module (exact time and position).
The most difficult are 4 toroidal coils to wind up, but only one of them is complicated. You do not even need a multimeter to start up. It is worth mentioning that the KIT assembly instruction is so written that it is really difficult to assemble it badly. As Hans G0UPL (the creator of the solution) said, only experienced in submitting KITs, they present problems with starting, because they do not read the assembly instructions.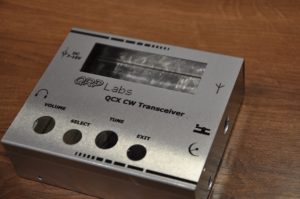 The housing can be printed, there are files of ready housings. Making a casing yourself is not trivial because the display has 2×20 characters above the main board. I ordered the original housing for my version, unfortunately the cost of housing is almost the price of TRX HI.
A group of people was formed around the project, exchanging ideas. I will add that the TRX QCS (or all band CW/SSB) version is under dvelopment.
I have not yet managed to mount the QCX in the housing. I made myself doing QSOs and for the first 2 days I managed to do about 30 stations. TRX works sensational (a small demonstration on the video, unfortunately I set the camera wrong and I can not see decoding the CW characters). It's small, handy, cheap – what to write, you have to try it yourself. The design is thought-out for working on CW, everything is intuitive. Personally, I miss the PTT output to connect to PA HI.
73 de SQ5JUP,
Piotr