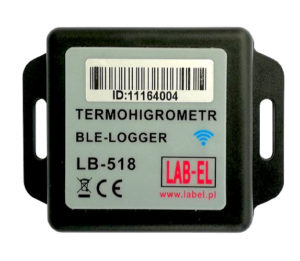 LB-518 BLE-LOGGER thermohygrometer is a wireless relative humidity and temperature mini recorder. The logger is equipped with a BLE wireless radio interface. It is powered by an internal exchangeable 3 V battery. For the temperature and humidity measurements, the thermohygrometer uses an integrated, high-quality humidity and temperature sensors.
The LB-518 thermohygrometer features an extensive memory for storage of 15,000 entries of temperature and humidity measurement results. The recorder allows threshold temperature and humidity values to be set with alarm signalling when the values are breached.
In typical applications the LB-518 BLE-LOGGER thermohygrometer performs measurements and carries out recording in the memory over the user-defined time. Over the set time, the recorder switches on the BLE interface and establishes connection with an external receiver. The data sent by the thermohygrometer are received via Bluetooth 4.0 interface of a smartphone with a suitable application installed. On request, the collected archived temperature and humidity measurement results may be read-out from the recorder's memory. For a read-out of the current and the memory-recorded data, special applications for Android are available – STORE-LOGGER and TRANS-LOGGER-B.
LB-515 thermohygrometer can be also found on the manufacturer's website LAB-EL.