I bought a 80 cm satellite dish (16 Euro), a converter (4 Euro), installed it on the roof and set it up on the satellite (Dish Pointer was very helpful). In our conditions, a 80 cm satellite parabola is a reasonable minimum when it comes to the receiving antenna. I still had to do an RF/DC splitter (the converter is powered via concentric cable, Bias-T can be bought for little money). I pulled 10 m of satellite cable and connected to the RTL-SDR dongle (12 Euro) – and receive QO-100 via SDR Console software. It is much better than SDRSharp, it has a great frequency stabilization option according to beacon (QO-100 transmits a continuous BPSK telemetry signal on the frequency of 10 489.800 MHz). To adjust the azimuth of the antenna on the roof, it is needed to track the signal in real time with the use of an SDR receiver for a smartphone or laptop, or some more or less professional "sat finder" tool for setting antennas. The elevation may be set according to the scale (if existing) to 30 degrees, and then adjusted for the maximum signal.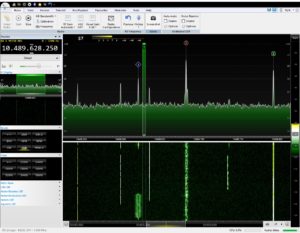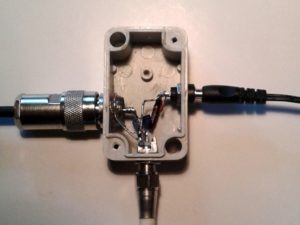 You can hear a lot of stations from Europe, Asia, South Africa, Brazil – usually on 58-59. More interesting stations heard: HS0AJ, HB9HAL, EA4GPZ, ZS1C, E21EJC, SP4LVC, PS8ET, YI3WHR, LY1R, SP8NR, VU2LBW, DO4PA (yl), EA6VQ, R2DRJ, ZV15CDR, F4DXV, A47RS, ZS5LEE, 3B8DU, TF1A, PR8ZX, SP9EGM, ZR6DLG, 9H1CG.
Some stations show their QO-100 equipment at qrz.com – worth watching: SP9VFD, LZ1JH, PY1SAN, SP9TTX, OE9DGV, PS8RF, DG7YEO, DK5WMA, DL1EMA, DK3EE, SP8NTH.
As a reminder, the bandplan and basic information:
Narrowband linear transponder – 2 400.050 – 2 400.300 MHz Uplink, 10 489.550 – 10 489.800 MHz Downlink
For the converter's oscillator frequency of 750 MHz, you will receive Es'hail-2 (for narrowband emissions) in the following range:
10 489.55 – 9 750 = 739.55 MHz to 10 489.8000- 9 750 = 739.80 MHz (V polarization).
Wideband digital transponder – 2 401.500 – 2 409.500 MHz Uplink, 10 491.000 – 10 499.000 MHz Downlink (polarization H). It is mainly used for DATV, more information here.
Apart from the telemetry signal 10 489.800 MHz, CW beacon 10 489.550 is also emitted. Both of these bands are very usefull – they make it easier to set the antenna and also determine the permited working range. In fact, they are pseudo-beacons, because they are generated on Earth in the Es'hail-2 service center.
Why in my opinion is it worth to work through a geostationary satellite? Because:
– receiving and transmiting range covers half of the world,
– there is a wide range of operating frequency (150 kHz SSB, 50 kHz CW),
– there are always conditions for contacts,
– there are no time limits in QSO as on low-orbital satellites, you can also chew rags in your own language,
– the antenna system does not arouse the suspicion of outsiders,
– the receiving part is extremely cheap,
– free and excellent software is available with full spectrum view,
– it is possible to receive your transmission,
– a good crisis communication option,
– and simply because it is 😉
Disadvantages include restrictions on the location of the antenna (for Poland azimuth 174, elevation 30), and the transmitting part is quite labor-intensive and expensive.
The satellite converter (LNB – low noise block) contains a local oscillator with a frequency of typically 9 750 MHz, however, it may differ from the nominal even +/- 200 kHz. Its frequency stability is important for reception. The older generation LNB has an oscillator based on DRO (Dielectric Resonant Oscillator) – these are less stable and some do not allow SSB reception due to frequency fluctuations. The newer LNB generation has a synthesis with a standard of typically 25 MHz with multiplication x390. With such a degree of multiplication, the instability of the quartz frequency is also important. There are descriptions of LNB conversions in the network – changing of quartz into a highly stable frequency source, introduction of an oscillator signal with coaxial cable, etc. In my opinion, this does not make sense anymore – frequency stabilization according to the beacon, as for example in SDRConsole works well enough. The LNB supply voltage must be set to V polarity.
There are also descriptions of how to exchange a quartz to another so that the output frequency of the converter is within the range of 70 cm to use the transceiver. In my opinion, this also does not make much sense. An independent receiver with the ability to view spectrum in the whole range is invaluable.
The network circulates information about the types of converters to QO-100 – some are wrong, I checked on my own skin. Do not buy converters "Best" HQRF101 or "Rocket" Venton EXL!
Receiver – the simplest solution is USB dongle RTL-SDR for 12 Euro, I use the same as in the picture next (the adapter must be done or bought). In the case of cable reception from the converter and the lack of other signals in it, it works well enough. Probably better effects will give FUNcube or SDRPlay RSP1A – you can buy less than 120 Euro. Some use a more extensive version of RSPDuo. It has two fully independent receivers with independent bandpass filters. They work up to 2 GHz, have great sensitivity and good noise performance. In the 70 cm satellite band, you can receive signals from amateur satellites while viewing the broad spectrum of the band. The quality of your own receiver can be compared with one of the Internet receivers, for example: https://eshail.batc.org.uk/nb/
Transmitter – usually an up-converter or transverter is used. The DXpatrol Uplink Converter is very popular, the cost of 120 Euro with delivery, with the transceiver drive 1-3 W it gives 100 mW at 2.4 GHz. You can QSOs on this, especially on CW, but generally you need 1-5 W for comfortable SSB operation, so you need a power amplifier. It is important that the final stage of the transmitter is just next to the antenna. Transwerter SG Laboratory is perhaps the currently cheapest comprehensive transmission solution (210 Euro + 8 Euro shipping). With power control of 0.2-5 W at 432 MHz, we have up to 2.5 W at 2.4 GHz. Up-converter Kuhne is the second pole – cost 949 Euro! I will not develop the topic… There are several options: BU-500 (169 USD, 100 mW), AMSA (I do not know availability, 100 mW), PE1CMO, MiniKits. A very interesting option, however demanding experience with advanced electronics is the ADALM-Pluto evaluation kit. It can be used for reception and transmission, also in the range of the broadband transponder – see here.
To connect the transceiver and converter you can buy WiFi bound N – SMA plug of any length. The cable is not of the best quality, but in this case it is beneficial, because the TX signal must usually be attenuated. In my case, after passing 13 m of EKH155 type cable, a 5-watt 432 MHz signal at the output gave 3.2 W.
Amplifier – the most popular is the WiFi Booster EP-AB003, after minor modifications (SP5GDM) it can be squeezed out of output power of 3 W. Other options are, for example: SG Laboratory 20 W 126 Euro, Spectrian module 25 W 99 USD, PE1CMO 20 W 20 At 160 Euro. Personally, I decided to assemby the PA DC1RJJ/DJ0ABR 10 W by myself – bare board is 15 Euro + 8 shipment.
Transmitting antenna – the best solution is to place the second dish only for 2.4 GHz antenna. But how to make TX antenna so that you can use the same RX dish ? Ruben LZ1JH invented 4x yagi 2 el – you can see it on his qrz.com web page. Such a structure looks laborious and troublesome due to the phasing to have circular polarization. A popular solution is a helical antenna (GM3SBC, DD0KP, PY1SAN) –  5-6 windings wound in the axis of the receiving converter. I chose the solution of a Patch Feed antenna made from copper plates with a waveguide from a tube with internal diameter of 20 mm. The cost with delivery from Netherlands is approx. 50 Euro. After soldering the copper elements (hot air station + soldering iron), combined with the Opticum RED converter and silicone sealing, my set looks like in the picture below. Instead of the original cylindrical microwave lens, I used the remaining one from the Venton converter – the signal received was stronger. Rafal SP9VFD did not go easy and made the antenna by himself, supposedly with the highest precision it is not so difficult. Rafal tested several converters by assembling them at the end of the waveguide and stayed at Opticum LSP-02G. Teflon lens from the front comes from the HQRF101 converter.
Rafal built a holiday work set based on 60 cm antenna  mounted on a tripod. The converter has been deprived of a plastic housing. The set shown below works very well, SWR in the whole band is 1.2 to 1.4. You need to give 40 Euros for the 60 cm antenna in the set with the folding stand.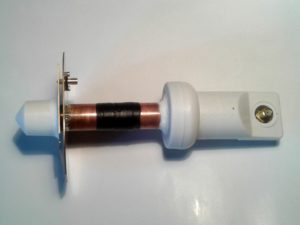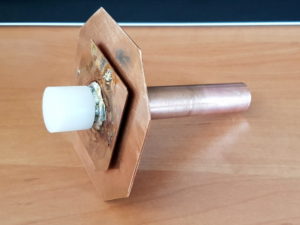 Miro SP5GNI