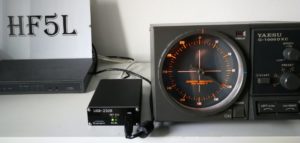 The USB-232B interface allows connection of the YAESU rotator controllers to a PC via the USB port. The interface supports various types of YAESU rotator controllers: G-800DXA, G-1000DXA, G-2800DXA and G-5500. The interface works with many HAM logging programs, for example N1MM, DXLab, HRDRotator, HRDSatTrack, also allowing satellite tracking, using the improved RC5-3 communication standard.
The undoubted advantages of the USB-232B interface include galvanic isolation between its USB interface and the connector used to connect the rotator controller.
The USB-232B interface from the USB port side is built using the FTDI USB / RS-232 converter integrated circuit, therefore it does not require additional software and uses the drivers included in the Windows system. The configuration of the ham program is limited to setting the appropriate COM port number, under which the USB-232B interface is installed in the computer system, and to set the baud rate parameters of the COM port: 9600, 8, N, 1.
The USB-232B interface works, but not completely. The input voltage range of the USB-232B interface is not matched to the YAESU output voltage range, so the antenna position reading is burdened with an error proportional to its azimuth. This error can not be corrected by a potentiometer in the controller. The product does not have any technical documentation or configuration program, so as to have the chance to tune the interface to the controller. The Chinese manufacturer sells it via the online-market, does not provide any contact details, so installation advice or, even worse, service warranty repairs are unfortunately impossible. Everyone buys at their own risk …
The set USB-232B interface comes with:
USB-232B interface module
230V / 9V mains adapter
USB cable
Mini-DIN 6 – mini-DIN 6 cable
DIN 8 – DIN 8 cable