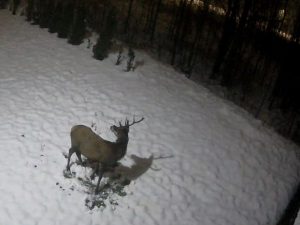 Winter in the Karkonosze Mountains is as picturesque as ever. The 2020/2021 season is different due to covid accommodation and ski bans. Fortunately, driving and hiking are still allowed, so who can go see the beautiful views and breathe the fresh air. The current temperature can always be checked at the Meteo-Karpacz station.
Where to live in this situation? The brave ones decided to stay overnight in motorhomes. Official camps are closed, but you can always park somewhere in a private parking lot, which they have not yet managed to close "preventively".
In the vicinity of Jelenia Góra (eng.: Deer Mountain), as the name suggests, you can often spot deer. Roe deer or deer? Contrary to popular belief, roe deer are not the wife of a deer, but a completely separate species. So the female deer is the doe, the male is the bull, and the young are the calves. The female deer is a goat, the male is a goat – stag, and the young are goats.
Roe deer is a smaller, more common species, with less impressive antlers (antlers). Roe deer has long, slender legs (coils), reddish-brown in summer or gray-brown hair in winter (dress) and a characteristic white or, less often, yellow spot (mirror) on the buttocks. The legs have small, sharp hooves, with the lateral toes set high (not touching the ground). This animal lives in flocks called slugs, led by an experienced female. Males fight for territory and for females.
But what does this actually have to do with amateur radio? Oh yes! Amateur FM communication can be carried out throughout the area via a repeater installed at Kopa mountain in Karpacz: SR6JG.